Rainy day, perfect to test some recipes. Try this bread with some butter, yum!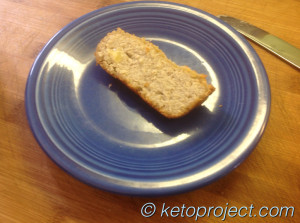 Vanilla Bean Coconut Bread, 12 servings
Ingredients:
6 eggs
3/4 cup coconut flour
1 tsp sugar free vanilla bean Torani syrup
1/2 tsp pure stevia
1/2 tsp cinnamon
1 stick butter, unsalted
Directions:
Preheat oven to 350 F.
Slice butter (if not at room temperature) into chunks.
In a mixing bowl, use an electric mixer to beat eggs.
Add butter to eggs, mixing until well combined.
Mix in other ingredients.
Coat a loaf pan with non-stick cooking spray.
Pour batter into pan and bake about 1 hour.