Had this and some coffee for breakfast: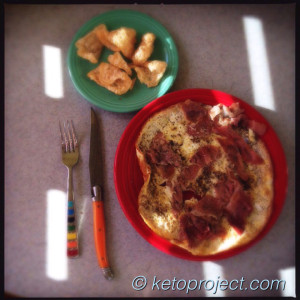 Prosciutto Omelet, 1 serving
Ingredients:
Butter
Liquid coconut oil
2 eggs
Prosciutto
Pork rinds
Salt and pepper
Directions:
Coat a frying pan with butter and coconut oil over medium-high heat.
Chop/tear prosciutto into small pieces.
Whisk eggs with some water until mixture is yellow.
Pour egg mixture into pan.
Sprinkle chopped prosciutto over eggs and season with salt and pepper.
Cook until bottom is set.
Flip and cook awhile longer on the other side.
Place cooked eggs on a plate and serve with pork rinds.