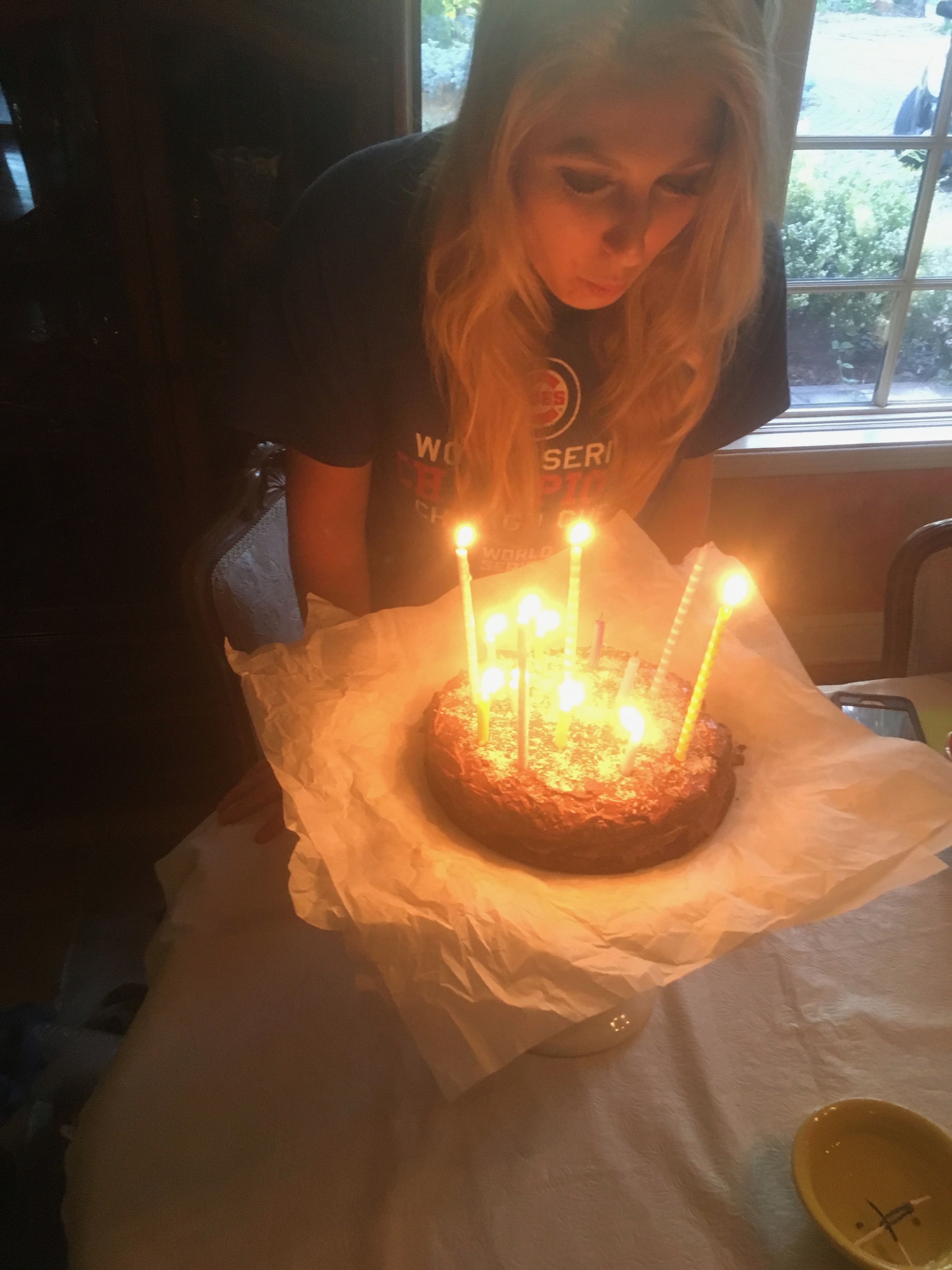 My mom made me a wonderful delicious amazing healthy low sugar birthday cake! Love love love.
PALEO Chocolate Almond Coconut Banana Birthday Cake
Ingredients
3/4 cup coconut oil, melted & cooled
4 large room temperature eggs
1 cup unsweetened almond milk
1 tbsp pure vanilla extract
1 tbsp apple cider vinegar
3 cups packed fine almond flour
3/4 cup high quality unsweetened cocoa powder
1/4 cup coconut flour
2 tsp baking soda
1 ripe banana
1 14 oz can lite coconut milk
1 1/2 cups very dark or unsweetened chocolate (I used a mix of unsweetened chocolate chips & 2 bars 95% chocolate)
pinch of salt
~1/4 cup shredded unsweetened coconut, for topping cake
assorted berries, for serving
Instructions
Preheat oven to 350 degrees F.
Line the bottom of 2 9-inch round cake pans with parchment paper rounds.
Spray parchment paper & sides of pan with nonstick cooking spray.
In a large bowl, whisk together almond flour, cocoa powder, coconut flour, baking soda, and salt. Add dry ingredients to wet ingredients & mix well.
Divide batter evenly between pans & spread out with spatula to smooth tops. Rotate pans halfway though baking. Bake 20-30 minutes until a cake tester comes out clean. Let cake cool about 15 minutes in the pan before transferring to fridge to cool completely. Allow cake to cool at least an hour (but preferably overnight) before removing from pan & frosting. Cake should be room temperature when frosted.
To make frosting: smash chocolate into bits. Add coconut cream, chocolate chunks, and a pinch of salt to a small pot heated over low heat. Whisk until melted and combined. Transfer to a bowl, cover, and refrigerate until hardened, 4-6 hours or overnight.
To frost: layer the cake, using frosting between each later, the frost the top with remaining frosting. Sprinkle the top with shredded unsweetened coconut.
If you like, serve with fresh berries.
https://ketoproject.com/paleo-chocolate-almond-coconut-banana-birthday-cake/