Pancakes perfect for an Atkins Induction! Coffee too? Yes. Goes without saying 🙂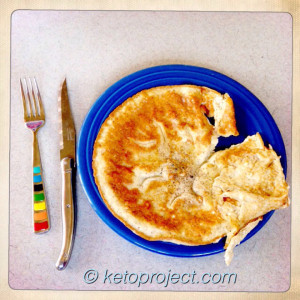 Induction Pancake, 1 serving
Ingredients:
2 eggs
1 oz cream cheese
Coconut oil
Cardamon
Cinnamon
Ginger, ground
Cloves, ground
Pure stevia
Salt
Sugar free syrup
Directions:
 In a microwave safe bowl, heat cream cheese about 20 seconds to soften.
Beat eggs and cream cheese with an electric mixer until smooth.
To egg mixture add salt, stevia, cardamon, cinnamon, ginger, and cloves to taste. Mix well.
Melt coconut oil in a frying pan over medium-high heat.
Pour batter in pan and cook until bottom is golden brown.
Flip, cooking a few seconds on the other side.
Serve some sugar free syrup.