My favorite breakfast! Followed by a hike in the California sunshine.
Cheesy Eggs, 1 serving
Ingredients:
Butter
Eggs— 2
Cheese— 1 oz
Seasonings— salt and pepper
Directions:
1. Melt butter in a frying pan over medium-high heat.
2. Break eggs into a bowl and add a little water.
3. Whisk eggs with a fork until mixture is yellow.
4. Pour into pan, season as desired, and cook until bottom is set.
5. Flip eggs and cook a little longer.
6. Place cooked eggs on a plate and top with cheese.
7. Microwave about 30 seconds until cheese melts.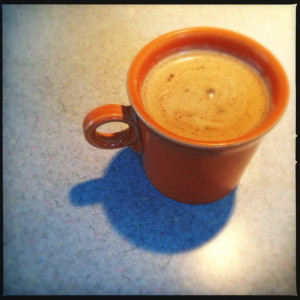 Breakfast Coffee, 1 serving
Ingredients:
Coffee
Heavy cream— 1 tbsp
Liquid Splenda syrup— 1 tbsp
Cinnamon to taste
Directions:
1. Add cinnamon, heavy cream, and sweetener to a coffee cup.
2. Pour in coffee and swirl before drinking.