Broth and salad for lunch, followed by some coffee: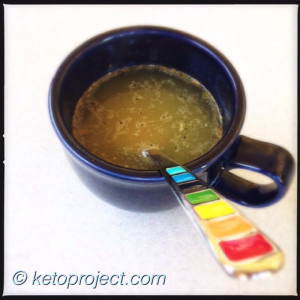 Seasoned Broth, 1 serving
Ingredients:
Chicken stock or broth
Salt and seasonings
Directions:
1. Pour broth into a microwave-safe mug or bowl.
2. Add seasonings.
3. Heat to desired temperature in the microwave. I heated mine on high for about 2 minutes.
Prosciutto Salad Plate, 1 serving
Ingredients:
1 cup chopped lettuce
Kelp noodles, optional
Sliced prosciutto
Pork rinds
Oils— I used garlic flavored extra virgin olive oil and liquid coconut oil
Feta cheese
Seasonings— I used salt and poultry seasoning blend
Directions:
1. Place lettuce and kelp noodles, if using, on a plate.
2. Top with oils, seasonings, and a pinch of feta cheese.
3. Add pork rinds and prosciutto to the plate.